If you are ready to schedule your surgery or would like to know more about our center or the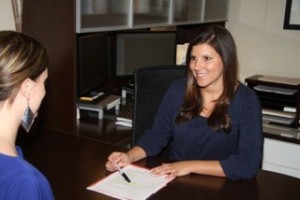 surgical procedures we offer, please contact one of our representatives by calling 770-427-0368 or filling out our contact form.
To schedule your surgery, you will need to send any related medical records and your contact information to our office by mail, email, or fax. Once we've reviewed your medical history, one of our surgical coordinators will contact you to discuss the details of your surgery, obtain any additional information the surgeon will need to review your case, and discuss potential dates for your procedure.
Directions
Northwest ENT Surgery Center is located in Woodstock, GA. Our facility is just off of interstate 575 (35 minutes from the Atlanta International Airport, 30 minutes from downtown Atlanta, and 20 minutes from I-285.) Located on the first floor of the building, our center features easy access and unlimited parking.
Atlanta Accommodations
The surgical staff at Northwest ENT Surgery Center recommends that you make arrangements to stay two nights in the Atlanta area. Out of town patients are generally seen by a surgeon in one of the practice's offices the day before the scheduled procedure. You should anticipate staying the night prior to your surgery and the evening after your procedure is performed, as follow-up recommendations vary for each procedure.
Hotel Information
Embassy Suites Kennesaw Town Center
620 Chastain Road
Kennesaw, GA 30144
PH: 770.420.2505
Fairfield Inn & Suites Atlanta
3425 Busbee Drive NW
Kennesaw, GA 30144
PH: 770.427.9700
Hampton Inn Atlanta/Woodstock
450 Parkway 575
Woodstock, GA 30188
PH: 770.592.2323
Hilton Garden Inn Atlanta NW: Kennesaw Town Center
895 Cobb Place Blvd NW
Kennesaw, GA 30144
PH: 678.322.1140
Comfort Suites
340 Parkway 575
Woodstock, GA 30188
PH: 770.517.9650
Call 770-427-0368 for more information about Northwest ENT Surgery Center.